Anyone who has spent enough time in the African wilderness has witnessed the brutal side of nature and gained perspective on how exceptional it is for a free animal to live out a full life. Amongst all the physical attributes nature has bestowed upon leopards, being masterful tree climbers has to rank highly. Now take away the trees for the most part, take away the water for the most part, and throw in an instinct to roam and defend a large territory surrounded by prides or bulky foes and clans of relentless cacklers not to mention the other warriors determined to invade your home. What are the chances a male leopard would beat those odds for over 13 years? For me that is what makes this particular cat so exceptional. He bossed his way through the years and earned the fear and respect of all that challenged him, some people were allowed a glimpse into his majesty and no doubt all are eternally grateful to him for that. His swagger and tolerance for vehicles over an unprecedented reign earned him a reputation amongst many a passionate Kruger attendee.
I first heard about Scar Face toward the end of last year when Garry told me stories of this dominant male, his unforgiving approach toward intruders, his strong bond to one of his sons and how notably skittish other males were whenever they rolled the dice and ventured to sable dam for a drink. Take a sip and then get out of town! As close as he was to his son, the day came when junior decided to challenge dad and was dealt a severe beatdown, needless to say the youngster moved further east and found his own stomping ground, he is thriving because he has a brawlers blood pumping through his veins.  
After weeks of failed attempts to find this phantom the time had come for me to depart, I had accepted my fate, I wasn't going to spot the big guy. My final morning drive had been marked by near misses, painful ones, a pack of wild dogs, a mother cheetah with four cubs and of course a female leopard. Still I was hardly ungrateful, my time out there had been epic. Nearing the first entrance to sable dam a French couple waved me down and asked if I had seen the leopard. 'Sadly not' I responded, 'she was seen earlier this morning.' 'No' they said, 'somebody told us they saw a leopard five minutes ago, on the slippery road.' Unfortunately I had and still have no idea where the slippery road is so I was unable to help, we exchanged a few more pleasantries and trundled on our separate ways. I turned the corner and wheeled on into the dam area intent on a casual scan before saying goodbye. As fate would have it there happened to be a pale shape lying under a mopane shrub on the eastern bank. Now it came down to my brain accepting what my eyes were quite clearly telling it, the disbelief rouses a comical debate between ones senses and the mind, you just need to be sure. I am certain a few people reading this know what I mean. Once it was settled that there was indeed a leopard resting on the bank I very cautiously rolled towards it, silently praying it would not run off. The closer I got this cats size became evident, the leopard also gave zero feathers about my presence so clearly it was comfortable in this space. It had to be him, surely, engine off I peered through the looking glass until he faced me. Ladies and gentlemen, Elvis was in the building.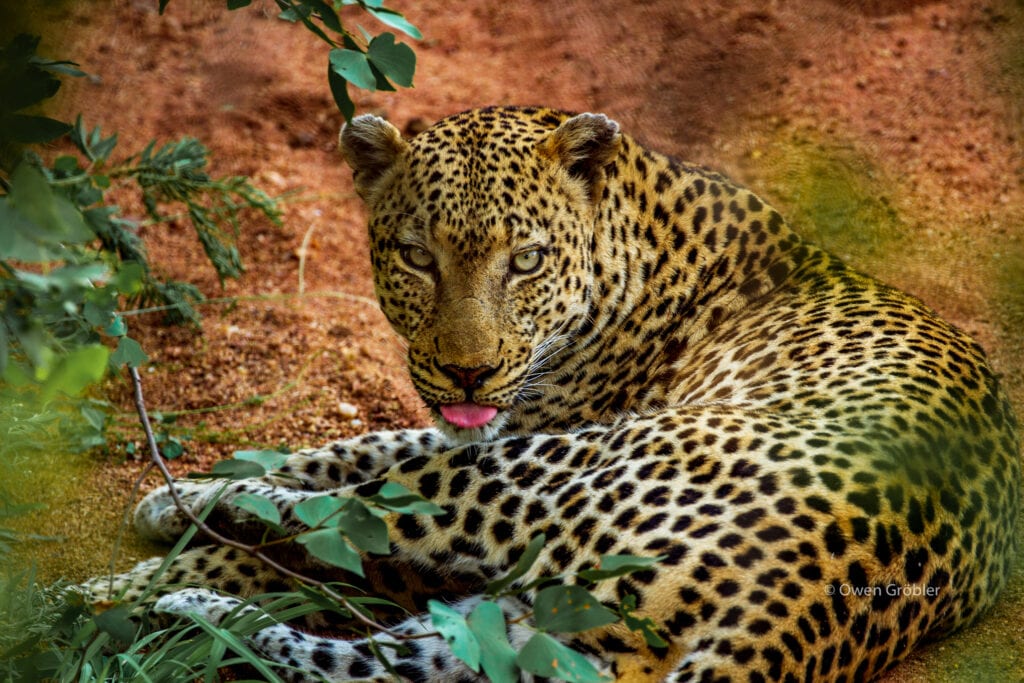 That sighting sits very high on my list. I messaged Garry and a few others, they came through and we had a glorious time with this rockstar, that is of course until a heavily pregnant lioness pitched up and chased him away. Yup, that happened to. Since that day life's river brought me back to that wonderful place and I saw the big fella a few more times, each time I really soaked up the experience, knowing I had met the King during his last few holes at the Masters.  As I write this he may have left his body, when he was last seen the ugly reality that comes for us all was taking charge. My hope is that he will fight back and once again defy insurmountable odds, for sure this cat has given the central kruger community and others many great memories and lived life completely on his terms. Salute.