The electric fence and shrubbery were of little comfort, Kulua's glare of disdain pierced the foliage and wires, a look rivalled only by that of a vexed adult buffalo. I duly reversed the car and sat as a child would outside the Principle's office. This leopardess is at least 10 years old now and she is not at all accustomed to being seen, especially in the day light. It appeared that the respect I have shown to this leopard in the evening hours and the sheer amount of times she has seen my vehicle over the last two years had finally paid dividends. Though the Queen was less than impressed with the situation she was comfortable enough to be seen.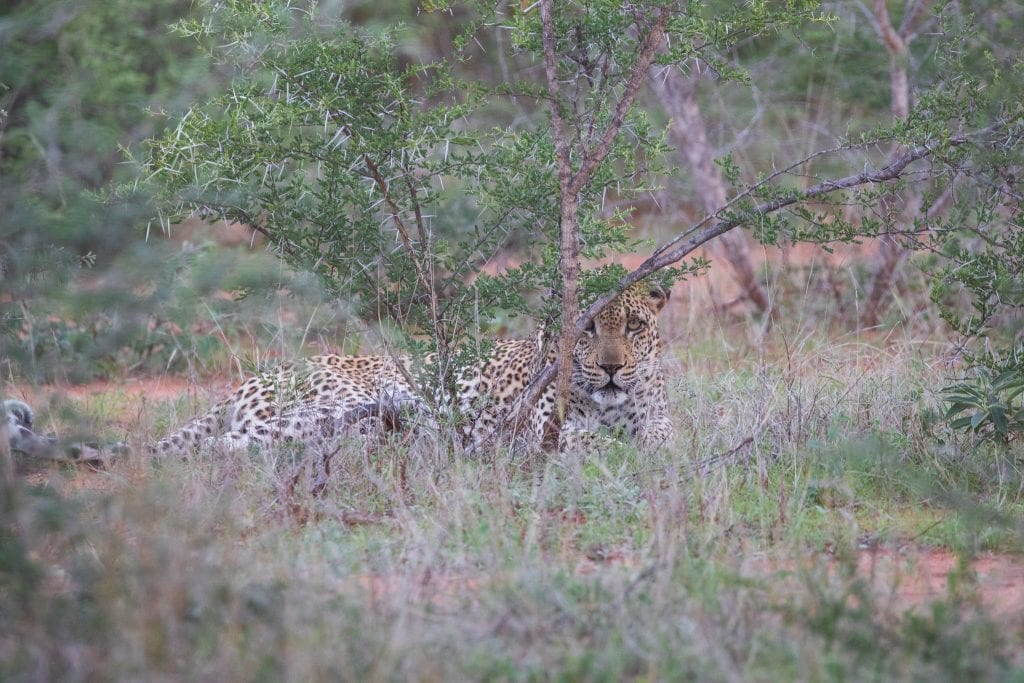 Katie and I now had a 1 out of 5 visual, it mattered not as I never imagined it possible for this scenario to play out. We waited quietly and observed as best we were able, Kulua had plenty of time and space to decide what she would like to do. The late afternoon light meant that photographically I wouldn't be dealing with harsh conditions should any opportunities arise. Within minutes the large female emerged from her shelter, the tip of her tail twitched whilst she considered her next move. The camera's focal point fit in between the segments of the electric fence, capturing the leopard's golden coat, an apt image as my journey to better understanding this cats movements and behaviour is a puzzling activity. On this occasion the pieces fit perfectly.
Time froze as I peered into the view finder and followed this sublime feline whilst she padded forward to the fence line and effortlessly negotiated her way through the voltaic annoyance. Kulua kept a watchful eye on my lens as the shutter fired away, once across the road she vanished into the greenery.