A heart lies in the centre.
As fate would have it I found myself entering another of life's chapters, seeking pastures new and meeting many great people. One particular adventure took me on a relentless search for a young male leopard in the central Kruger, a harsh landscape surfaced by an ocean of Mopane. True to form I made contact with the founder of the Leopard project in the area and badgered him for information. He obligingly helped and also shared some of his experiences in the area over the years, I have had many a man share their happiest moments on a golf course with me but I haven't seen a person light up as one does when sharing a story about that which is sacred, our African wilderness.  
I applied myself to the search and after much effort and patience I found this striking youngster with a purple nose lying in an Appleblaar tree across the river bed, two mature elephant bulls took shelter under the tree and left him stranded for some time. The Leopard was unfazed by the giants and fell into a deep slumber for the next couple hours. In the following days I managed to see him on another three occasions, in  a tree overhanging another river bed, walking through said river bed and passing by a herd of buffalo, again completely unfazed by giants and finally marching through the same river bed with part of his kill whilst a pair of spotted hyenas feasted on their stolen quarry. 
I had many hours with him but I hadn't seen him close up yet, a couple weeks ago that all changed. Having endured a number of my photos and constant enthusiasm Katie's family decided to cross the border and visit us. We had a couple blissful days in the Northern parts of Kruger before heading our separate ways, I knew that this young male had been seen in his usual territory that morning so Katie and I went back to the centre and hoped for the best. He wasn't around so we journeyed on and searched some of the usual spots, still no luck. A couple hours later as the sun sank toward the horizon we slowly combed a river bank, scanning under the shrubs and up the trees when as always there is a sudden jolt to the senses, 'Owen, there is a leopard.' I think many of you reading this will empathise with the fact that when explaining a sighting to fellow adventurers, specific detail is a necessity. This is an area my wife needs a little work on, over the years her typical phrase is 'Oh look.' Where exactly am I meant to look? In this instance the leopard was in a tree, so the above sentence left me trawling the vegetation below the tree on Katie's side of the vehicle, before she noticed and then happened to mention that the leopard was lying in the tree!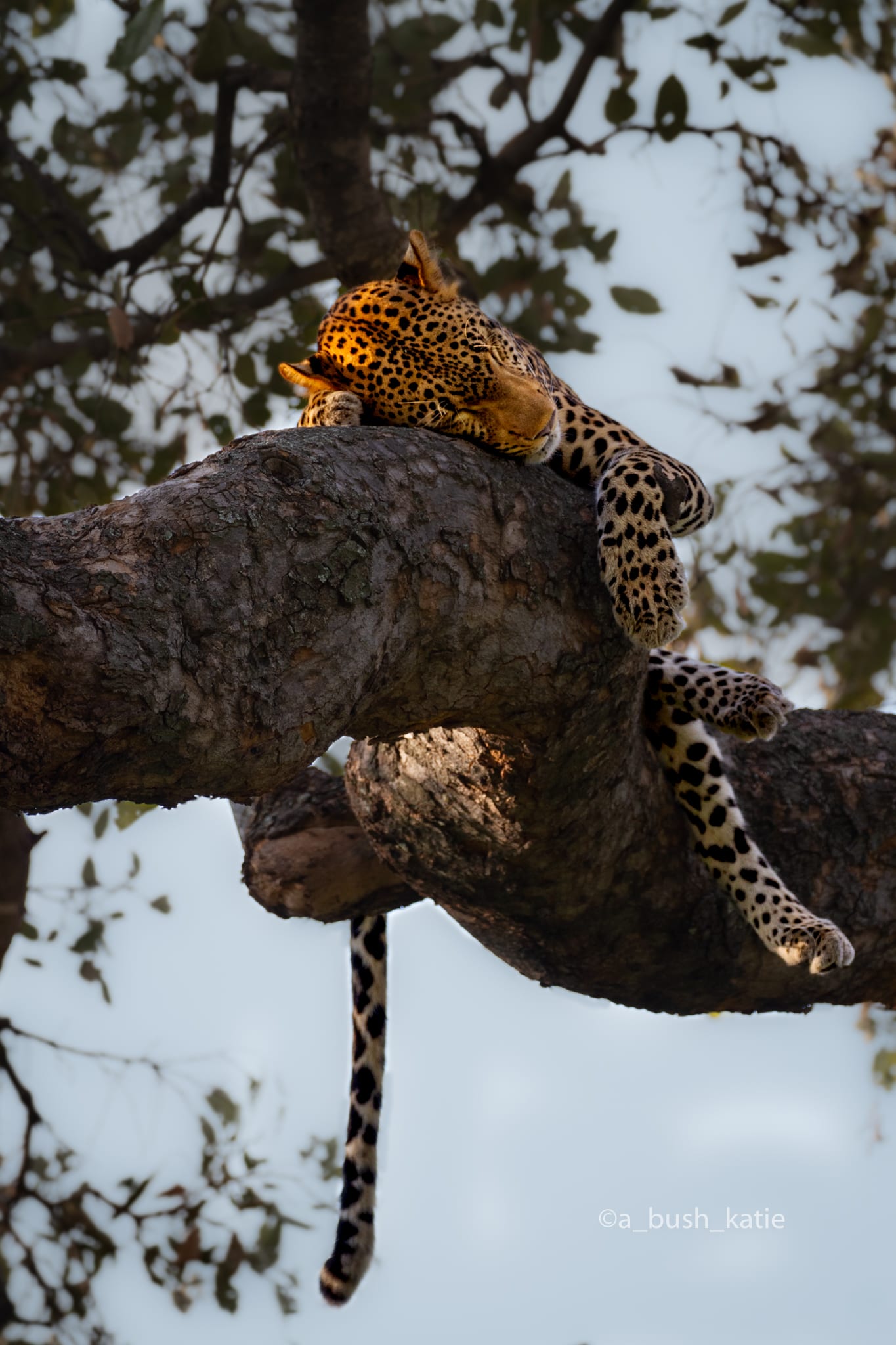 With his coat glowing golden in the setting sun he lay no more than fifteen metres away from us. It was a bucket list sighting for us and having that spot with this particular individual made it all the more special, just imagine it. His body enveloped his patch of the branch, with legs and tail dangling below. Garry and a couple friends arrived soon after we saw him and we all spent over half an hour with this relaxed beauty, before heading back for gate closing. I hope to have many more experiences with this leopard but either way I will always be grateful.